Auger Powder Filling machine – Double Head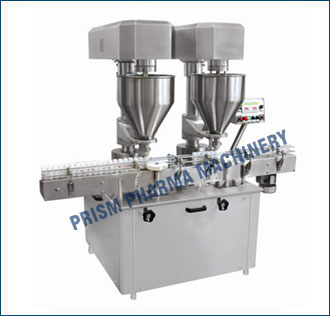 Application & Process :
Automatic Double head Auger type powder filler is a versatile filling machine ideal for non-free flowing, fluffy & sticky powders in bottles. e.g. Pharmaceuticals powder, talcum powder, tooth powder, custard powder, pesticide powders, ground spices etc.
Automatic double head dry powder auger filler utilizes the principle of positive displacement of screw. Precisely designed augers are displaces product through funnels and containers convey by conveyor belt. There are two separate filing head mounted on top plate with pillar and inline filling station with conveyor. Initial first fill single bottles at first filling station and after that both filling station fills bottle together by controls system and bottles holding system is designed to moves two filled bottle together.
Dry bottles are fed through turn table to conveyor belt and flat conveyer feeding bottles to filling heads on sets speed and bottles stop and hold for filling station. Sensor gives signal to electromagnetic clutch start to rotate augers for filling. It will fill desire quantity of powder in to the container through auger. An auger filling times precisely sets on desire requirement by timer controls and speed of auger can be set by variable speed drives. After filling of bottle pneumatic cylinder unhold bottles and move forward to further process on conveyor.
Salient Features :
Designed as per cGMP – Current Good Manufacturing Practices compliance
All contact parts AISI 316 & non contact parts AISI 304.
Double head auger filling with conveyor for fast production.
Easy changeover for different pack sizes.
Filling weight easily sets by timer of auger.
Versatile Agitator Mechanism ensures continuous flow of products, to the Auger.
"No container No filling" Systems.
Filling and conveying speed adjustable through variable speed drives.
Pneumatic operated bottles holding system.
Simple Construction assists maintenance and cleanliness.
Optional Features :
PLC Controls with touch screen
Servo motor controls.
High & low level powder sensor in hopper.
Technical Specification :
| | |
| --- | --- |
| Model | MDPF-100 |
| Direction | Left to Right |
| Output/Hour* | 60 to 80 Bottles/ Min. depend on power bulk density & neck dia. of container |
| Fill Capacity | 10 gms to 50 gms with help of change parts |
| Accuracy | ± 2% Depend on power density, Operating atmosphere & neck dia of bottle |
| No. of Fill Head | Double |
| Electrical Motor | Auger – 2HP/1.5 kw, Conveyor- 0.25hp/0.18kw |
| Power Required | 220/380/415 volts, 3 phase+N+E, 50/60 Hz. |
| Over all dimensions | 2200 L x 1150 W x 1850 H |
| Conveyor Height | 850 mm to 900 mm adjustable |
| Net Weight Approx. | 780 kg. |